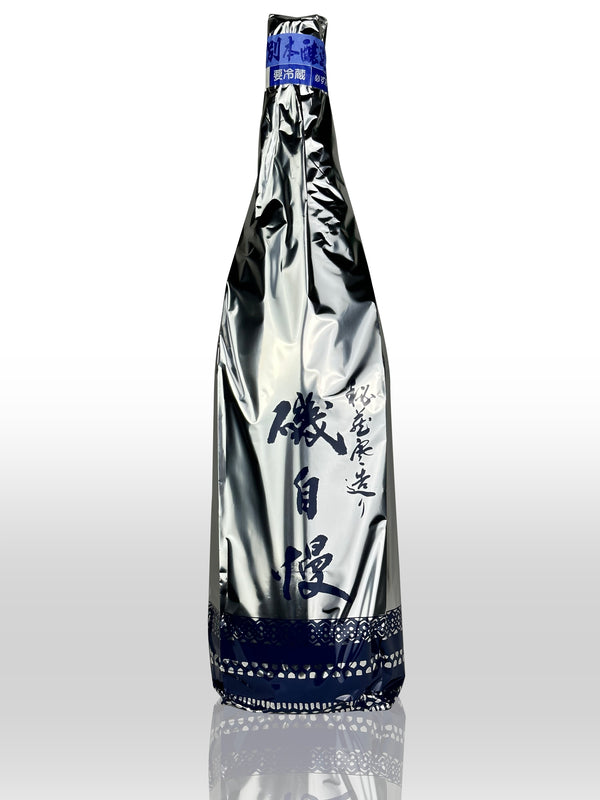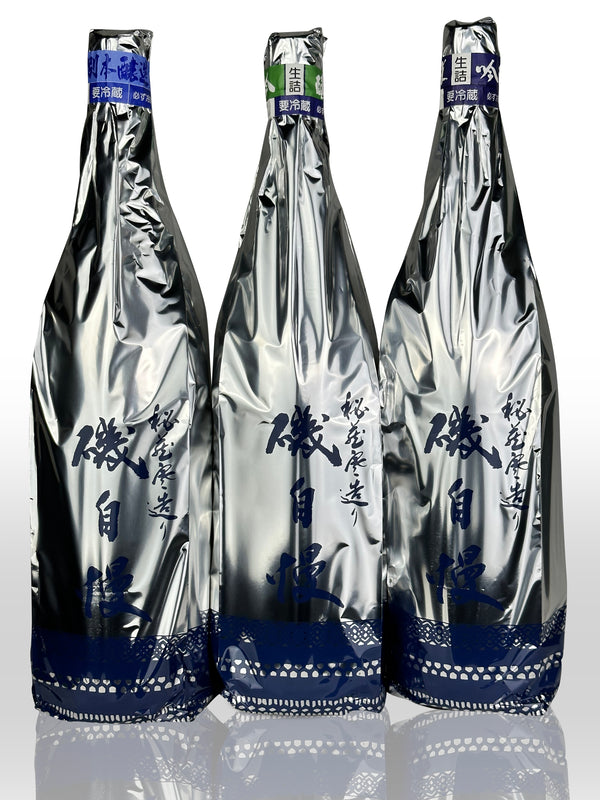 磯自慢(いそじまん)「本醸造」秘蔵寒造り
◆DIRECTOR'S RECOMMENDATION
Isojiman creates some of the best Sake. Its Ginjo has become well-known in recent years thanks to winning the IWC Championship's ginjo group a couple of times.

It's Honjozou uses the same meticulous brewing method, and is in my opinion more flavorful. The after taste is longer especially enjoyed at a higher temperature.
Very limited!
磯自慢(いそじまん)「本醸造」秘蔵寒造り
使用米

麹米、兵庫県東条町産山田錦55%精米




掛米、兵庫県東条町産山田錦60%精米

使用酵母

NEW-5(静岡酵母)

アルコール度

15度以上16度未満

日本酒度

+5-+7

酸度

1.1

容量
1800ml
価格
磯自慢(いそじまん)「本醸造」秘蔵寒造り
◆創業185年 焼津唯一の酒蔵、磯自慢酒蔵
Isojiman Shuzo was established in Yaizu City, Shizuoka Prefecture in 1830 (Tenpo Era, First year).

Like many sake breweries established in Edo Period, the owner of Isojiman Shuzo was a major landowner in Yaizu, and possibly the village headman. In those days, major landowners as village heads would use their land for the collection and transport of the annual rice tax, and use the rice tax as payment for wages to the samurais and circulated rice distribution in market. In the process, it was common for surplus rice to emerge, and be used to produce sake of high commercial value.

In other words, the major landowners and village heads would engage in farm management as theirmain business, and then brew sake during the agricultural off-season in winter. However, this management form ended with the farmland liberation policy carried out by the postwar GHQ, and sake brewing as a secondary job became the principal occupation. In those days, there were many small breweries, as many as one brewery for one village. However, they were consolidated under the guidance of the Finance Ministry at the time.

After the postwar confusion, Japan entered into a period of high economic growth. While younger generations of Japanese are only familiar with Japan after the burst of the "bubble", Japan's economy soared for a long time after the war. In those days, sake consumption continued to increase as if linked to the economy so that even major manufacturers would say "Sake production can't keep up with consumption." "Vat purchasing" system was invented where major manufactures could purchase and blend whole vats of sake brewed by local sake breweries, add sugars and adjust the taste, and then sell the sake under their own brands. This system was advantageous for the local sake breweries. The breweries only needed to brew the sake and the major manufacturers would buy them. The brewery did not need to carry out reserch to improve quality, or marketing efforts such as advertising. With the exception of a few famous local sake breweries, most local breweries heavily relied on vat purchasing. These conditions continued for a long time.
◆継承される酒造りへの想いと磯自慢品質
戦後の経済成長とともに消費量を伸ばし続けた日本酒であったが、昭和末のバブル期の始まりともに、徐々にその減少傾向が顕著化する。酒類への輸入関税の引き下げにより、酒類の多様化が一気に始まり、特に20代、30代を中心にバーボンやワイン、カクテルなどが"お洒落な酒"として人気を集めていく。また、都市部を中心にフランス料理、イタリア料理などのレストランが増えるといった、食の変化とも無関係ではなかっただろう。バブル景気に乗った高級品志向・本物志向が高まる中、日本酒は完全に波に乗り遅れ、「時代遅れの酒」となっていった。
こうした状況にいち早く危機感を感じた磯自慢酒造では、『これからの時代、自分たちの酒を高品質化しなければとうてい生き残れない…』と考えた。それは、寺岡社長が大学卒業後、酒類の商社で修行していた経験が大きかったに違いない。

『昭和50年頃、親父(当時社長・現会長)と話し合い、いい酒、高品質な酒を造ろうと大きく舵を切りました。この時の二人の判断と決断がなければ、今頃、磯自慢という酒蔵はなくなっていたかもしれませんね』。と笑いながら教えてくれた。この時の磯自慢酒造の杜氏(酒造りの現場責任者)は、志太杜氏である横山福司氏。この横山杜氏が、『大変苦労して、現在の磯自慢品質の基礎を作ってくれました』。と寺岡社長。横山杜氏は、75歳で引退される年まで、磯自慢酒造で勤め上げてくれたそうです。

ちょうどこの頃、時を同じくして「本物のいい酒を造ろう」、そう考える少数の酒蔵が地方から出始める。そう、日本酒の高品質化は、大手酒造メーカーからではなく、地方の酒蔵から始まったのです。