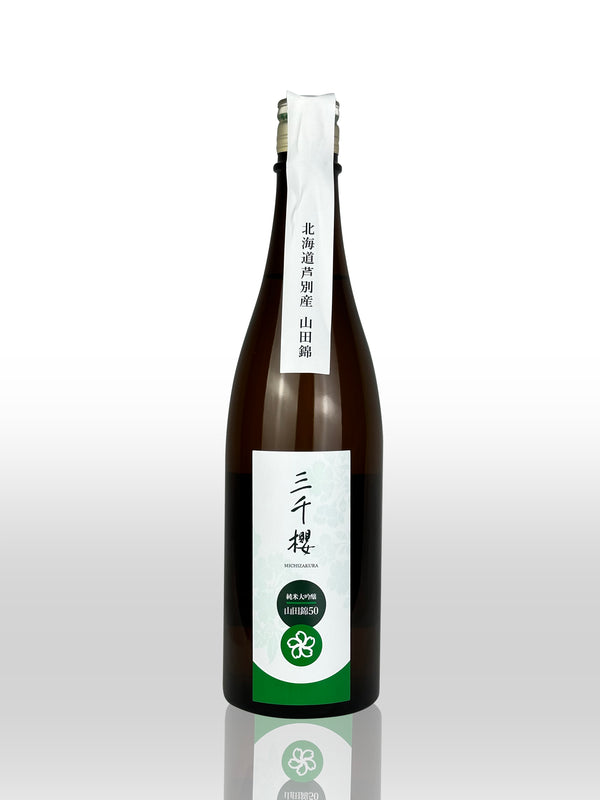 Michizakura Junmai Daiginjo 50【三千櫻 純米大吟醸50】
◆DIRECTOR'S RECOMMENDATION
This is a relatively old brewery that was founded in 1877 in Nara, southern part of Japan. It moved to Hokkaido in 2020. When I personally visited the brewery, the Toji master was slightly cocky, as you would expect and I was not able to do a Sake tasting despite travelling thousands of miles there. So my host bought a bottle and then we tried it later that night...
And it is actually positively great, it has a complexity that beats most of the typical Yamada Nishiki sakes like Dassai for example. It has a lot more floral notes to it. And finishing is smooth.
The reason for the greatness is that this particular Yamada Nishiki rice is actually grown in Hokkaido, whose weather is considered tough for a tall rice crop. But the cool climate has paid off, there are a lot of more flavors than your average YN sakes. A rare gem, despite the awkward first meeting with the owner.

Can you tell by our facial expressions?
Michizakura Junmai Daiginjo 50 【三千櫻 純米大吟醸50】
| | |
| --- | --- |
| 使用米 | 北海道芦别 山田锦 精米度50% |
| 使用酵母 | |
| アルコール度 | 15度 |
| 日本酒度 | |
| 酸度 | |
| 容量 | 720ml |
| 価格 | |
Michizakura Junmai Daiginjo 50 【三千櫻 純米大吟醸50】
143年目の決断
次の百年へ酒造りを繋ぐ
明治10年創業。岐阜中津川で143年の歴史を歩んできた三千櫻酒造は、
2020年11月7日「東川町公設酒蔵・三千櫻酒造」として新たなスタートを切りました。
北海道東川町にとって初めての酒蔵として、地元に愛される酒造りはもちろん、東川町が自信を持って日本全国へ、
そして世界へ発信できる酒造りに邁進いたします。
100年続く蔵であれ。私たちは先代からそう教えられてきました。
新天地と決めたここ、北海道東川町でも、100年、1000年と続く蔵であって欲しい。
その思いを込めて、中津川で培ってきた酒造りの技と魂のすべてを注ぎ、
「三千櫻らしい酒」を造り続けます。