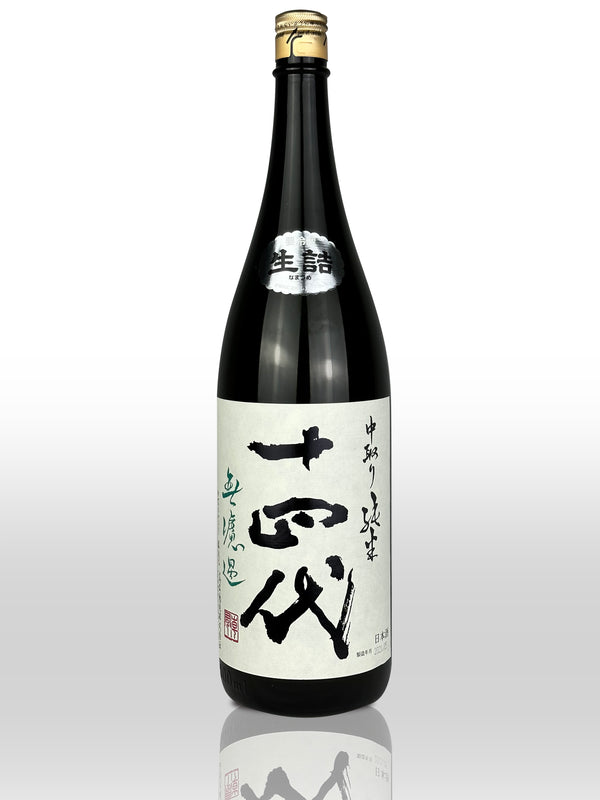 十四代(じゅうよんだい)「純米」中取り無濾過生詰
◆DIRECTOR'S RECOMMENDATION
Juyondai represents the pinnacle of Japanese Sake, permanently ranked No.1. 
中取means only the middle part of the extracted Sake is used, making this ultra smooth. The unfiltered Sake is has much more flavor that clear ones, let it surprise you!
Also check out 朝日鹰 Asahidaka, the original Juyondai Honjozo, and maybe better value for money. Here is a Story about some history of Juyondai Honmaru and Asahidaka.

十四代(じゅうよんだい)「純米」中取り無濾過生詰に関するリンク
| | |
| --- | --- |
| 使用米 | 美山錦55%精米 |
| 使用酵母 | 山形酵母 |
| アルコール度 | 15度 |
| 日本酒度 | +2 |
| 酸度 | 1.2 |
| 容量 | 1.8L |
| 価格 | |
十四代(じゅうよんだい)「純米」中取り無濾過生詰に関するリンク
◆十四代 蔵元 高木酒造について
 高木酒造の創業は1615年(元和元年)、現在に至るまで400年以上もの歴史を持つ老舗中の老舗蔵元です。さくらんぼの佐藤錦で有名な山形県村山市にある蔵元なので、美味しい水に恵まれており、それが『十四代』の日本酒の美味しさに反映されているのだと思います。
『十四代』を醸造し始める以前は『朝日鷹』という銘柄をメインとしていたそうで、地元山形県で人気のあるお酒だったそうですが、その後『十四代』ブランドを確立させてからは一躍全国区での高い知名度を誇るようになったと言われています。
◆十四代 名前の由来について
高木酒造は『十四代』の銘柄名を1963年(昭和38年)頃、当時14代目である高木辰五郎氏が『十三代』『十四代』『十五代』『十六代』等を登録商標に申請を行い、数字は登録商標出来ないルールだったものの、人物名に間違えられたのか、奇跡的に『十四代』だけ通ったことで名付けられたそうです。また『十四代』は当初、古酒にのみ使用していたブランドと言われており、14代目 高木辰五郎氏は、高木酒造の門外不出の酒造好適米(酒米)『龍の落とし子』を開発したことでも知られています。